Our debut fashion series titled 'Behind The Brand' takes a closer look at a number of prevalent clothing companies inspired by Islamic culture. In this five-part series, we dissect all the components of what makes a business run and also learn more about the budding entrepreneurs behind the vision. In this article, we speak to Hazem El Seddiq founder of Stabraq.
The word Istabraq (إِسْتَبْرَقٌ) which is found in 76th Surah of the Quran (al-Insan) is interpreted as 'heavy brocade' and is considered a reward for those who do good. In the same chapter of the Quran there is also a description of the qualities of the people of paradise:
They [are those who] fulfil [their] vows and fear a Day whose evil will be widespread. And they give food in spite of love for it to the needy, the orphan, and the captive (76:7-8)
The qualities of a Muslim are an important characteristic, the Quran describes the qualities of the dwellers of paradise and it from this characterisation we seek to align and perfect our character in this world.
Clothing brand Stabraq comes as one of the unique companies in the Middle-East which seek to encapsulate these qualities and represent them within the medium of fashion. Founded in 2013 by Hazem El Seddiq, Stabraq has grown to serve a deeper purpose than its original mission statement, establishing itself to be a symbol of the contemporary Muslim.
The statement is clear, don't follow the trend, set it. We sat down to have a chat with Hazem and got to learn a little more about his journey on YouTube and the challenges of founding a clothing brand in Egypt.
Tell us a little about yourself what is your background?
I studied engineering architecture here in Egypt at Cairo University. It actually took me 8 years to graduate, it's not necessarily something that I am proud about but in a way I am. Because I was working alongside my education and that helped me a little with regards to college itself but in the end when I graduated I had experience.
I was actually working in my field of architecture one year before I graduated and when I graduated I continued for another year and then I shifted my career completely. So that gave me a whole lot of experience.
So how did the YouTube start?
I follow a lot of YouTubers I mean everybody loves YouTube, everybody wants to be a YouTuber. So I was with a family member and he had a kid, this kid was like 10 or something and we were talking and I asked him "what do you want to be when you grow up?" he replied, "I want to be a YouTuber". So I was like that's cool, that's something I can be.
I started to make videos on Facebook like Dawah videos, kind of like vlogs. I would talk about a topic something of the top of my head. I thought I can edit, I can shoot video, I have lots of ideas why don't I start this for myself? So, I started using my brother's camera, it was a canon 70d and I started shooting, then the camera broke.
People were starting to like the content and I started gaining followers so I was like guys my camera broke and I can't do anything else I just put that out there as a post I was letting people know that the content was going to stop for a while. And then people started gathering and wanted to get me the camera, and so I asked some people like is it cool that these people get me stuff? It was kind of awkward at the beginning but they were like this is Dawah and we want to support this so I was like alright let's do this.
I got another Camera and then I started the vlog right away. I thought Insha'Allah this was a sign that I should do this. The whole idea behind this was of course number one Dawah. With daily vlogs you want to portray your lifestyle and show people how you live, you want to tell them this is what I do, this is what I eat, these are my friends, this is my life. So this is what I wanted to do, I wanted to show the life of a Muslim more or less that was not a terrorist, that was not stereotypically what they all say.
When was Stabraq launched and what was the inspiration behind starting?
It was launched in 2013 on the 15th of June. I usually don't remember dates but this was very critical because two weeks after that it was the 30th of June military coup. So, two weeks right after we started the whole country shut down, all the delivery services they weren't going anywhere. The internet actually stopped, everything, it was a mess.
The idea behind Stabraq was that we like clothing brands. We like the idea behind a brand like Adidas, Nike, Springfield and all that kind of stuff when one of us would buy something new we would get the hang tag and we would read what this brand wants to communicate to us and what they want to represent. So, the whole idea behind branding and behind the fact you can say something through a piece of clothing or product was fascinating to us. We couldn't find anything that represented us as Muslims, as Arabs, as Egyptians, as modern Muslims. So, we decided to be this window for Muslims, our slogan is actually 'empowering trendsetters' or 'empowering Muslim change makers' because I mean that's what we see ourselves as.
What's #AlienBeard?
Well, Alien beard is everything that represents me personally and people who have beards because I'm sure you know that everybody sees bearded men as terrorists, Aliens and weirdo's so we wanted to emphasise this meaning. So we were like right if you want to see us as Aliens we're going to make it cool, we're going to make being an Alien with a beard something that you're going to want to be part of so that's where it came from.
What genre would you consider your clothing to be?
It's a blend of street wear and lifestyle. Because in the end, my goal is to make clothes that fit Muslims.
The constraints that we give designers is that we want something that's cool, unique and that has a Modern Islamic idea. It doesn't have to be 'in your face Islamic' at all because that's the whole idea behind the brand. If I were to wear a Stabraq item which for example said 'trendsetters' on it, it's not necessarily Islamic but what the brand generally stands for is an Islamic idea.
It's created from the values that you believe in as a Muslim?
Exactly.
You often emphasise on the need to set trends, why do you think this is important?
That's a very good question. When something is trending a topic like Donald Trump for example or whatever is going on in the word, I don't like to follow it, I wouldn't like to make a video about it because this just means that I am following people and trying to gain recognition or traction from this trend. I don't like this at all and I don't really hold a lot of respect for the people who do this because it's too easy. It doesn't influence your personality, what do you have to stand for? What do you represent if you are going to ride every trend?
So that's why I try to do what I do, I try to create my own trend, have my own line and this is not just in clothing and its not just in the vlog it's in everything. I want people to follow the trend that I make I don't want to follow anybody else because that's our problem in general as Muslims we follow everything.
Stabraq is very much an Egyptian clothing brand, why do you want to keep things in Egypt?
It was low-cost that was one of the main ideas, and the other very important idea is that I want to give people in Egypt hope. I can easily go travel to Canada for example and start Stabraq over there, I could go to London and start it over there because people in the western world need Stabraq more because they want something that represents them, it has more value in these communities and my style of design is actually more attractive to people in the West.
But it's very important to do it here in Egypt because I want to give people the hope of starting something and that if you want to start something here you can succeed, you can do something big. I have a very strong belief that if Egypt rises then at least all the Arab countries will rise alongside.
Is all of the production done in Egypt?
Yes, everything even the cotton. Sometimes we use Egyptian cotton but it's funny because people in Egypt don't really appreciate Egyptian cotton. So we don't tend to emphasise this anymore.
Do you see support for Stabraq, specifically within the Egyptian youth?
Very much so, people are looking for anything, for any hope of any kind whether it's a company or whether it's somebody who makes videos anything of any kind that can show them that our current state is not something that is going to go on forever people are going to back it.
But, I try to take it a step further and try and take this support and turn it into something useful as in something we can build on. In many of my videos right after people show me support I appreciate it but I tell them that this is not enough, comment that you have started something, ask me how to start something, show me what you have done. I try to push them and I give talks a lot about this stuff and I try to push people to create something.
What are some of the challenges you have faced while starting your company?
First of all, there is the political state in Egypt. Two weeks after we started the military coup happened so that was a major hit. After that, it's related to quality assurance one summer we had a very big collection it was ready to go and it was a really good season for us. Two or three days before we received the product from the factory a friend of mine (the co-founder) walked into the office and said: "I have bad news the factory has burnt down with all of our production".
We did get some of our money back but the whole season was killed and we spent one whole year really with no products. The other challenge is in regards to quality you have to go to a really good factory and no matter how good they are you have to send someone to have quality assurance, to be over their heads. Something else is that generally the inflation is very very bad over here, a few months ago the Egyptian pound versus the US dollar was 8.8, right now it's 20 so you can imagine how high the costs are. So, it's very hard for us to make money of the products. For example, the hoody I am wearing is E£ 300 which is actually very low with respect to everything else.
You recently opened your first physical store what was the process behind it and how has it gone so far?
A friend of ours has a perfume store, he represents our values so we decided to give him some of our products so that he could sell them in his store and things went well. So he was like to me there's a store across the street and the rent is very low if you guys don't take it I'm going to take it and name it Stabraq and sell your stuff [laughs].
So I was like I don't have the money to take it right now so we decided on something like a franchise or a semi-franchise and we went for it. He took the store and furnished it and all that stuff and it was 100% percent a God given thing. And that is exactly what I felt right up to the point when I was standing in the store.
What are some of the qualities you need to start a business?
Well, I mean it depends on each and every business of course but the number one thing is to know that things are going to be hard, completely overlook that Steve Jobs dreamy view and just know that you have to love what you do, because in a lot of situations that's all you are going to have. You are going to be broke, you're not going to have time, you are going to have a lot of problems and all you are going to have left is the passion that you started with if there is no passion you will, YOU WILL let go. That's the most important thing to have that hustle. Of course, you have to research you have to do all those boring things, of course, you need a team and all that stuff but that's a given.
And a very important thing is, do not over dream and do not over think because if you have an idea your idea is something that hasn't been tested yet so the most important thing is to put it out there, test it and see if it's going to have acceptance otherwise you are going to think and plan and read for like a whole year and when the time comes for you to throw the product out there, if people don't like it you're going to be crushed. So my advice is always to have an MVP (minimum viable product) which is to create a very small prototype of your product which tests the core functions.
What would be your advice to somebody who has an idea for a product/brand but is scared to take that first step?
Something that I always say is that you can never regret starting something but you will most definitely regret not starting it. That's something you have to believe in and there's a difference between being a thinker and being a doer, thinkers just think endlessly and they don't do anything and that's where those people are. If you keep thinking, you're not going to have a product in the end.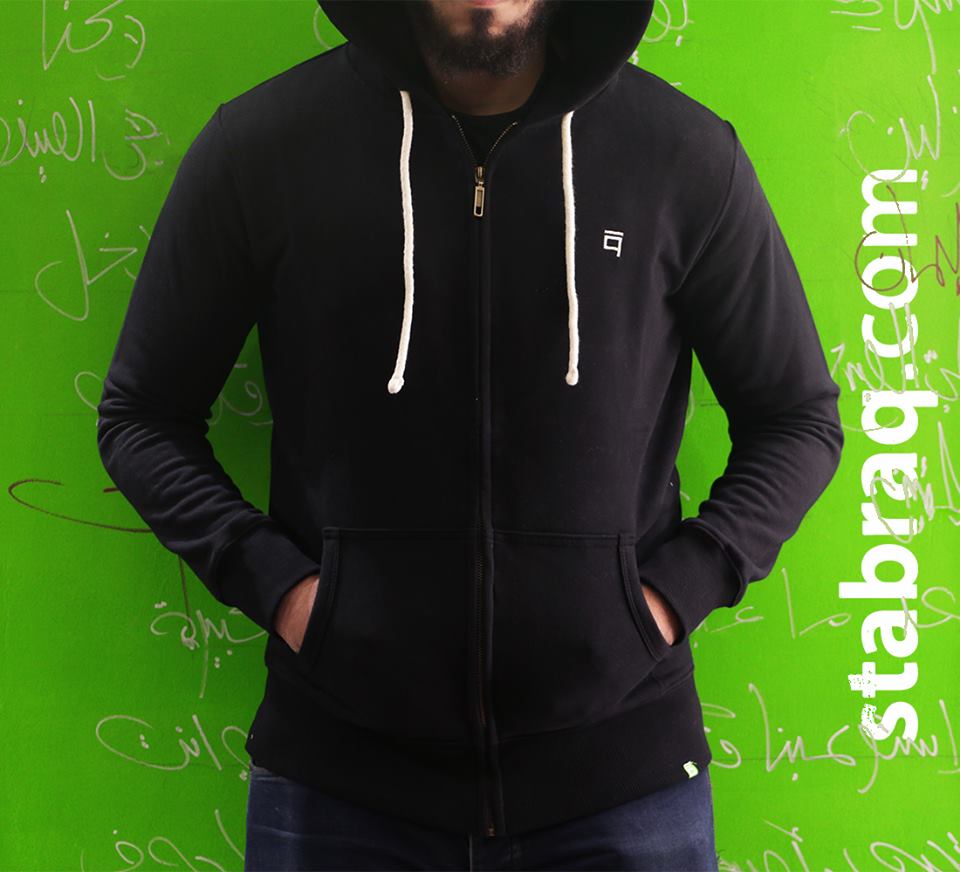 I can't emphasise enough on the importance of reading this book called "The Lean Start-up" it talks all about this concept of you wanting to start something by planning endlessly without actually experimenting, without actually asking people what they think, without putting out products to get critical feedback on. And this is what kills if you have a product just put it out there get the feedback you don't even know if it's a good idea, it might be a bad idea?
Looking forward what are some of your future aspirations in regards to Stabraq and your YouTube channel?
In the near future with regards to Stabraq, I will be expanding to different parts of the world because we do get orders from different parts of the world and we want to start capitalising on that. We are actually in the process of that right now, we would also want to take a couple more stores over here in Egypt maybe something in a mall.
With regards to YouTube, I'm just going to do what I do at the moment because right now it's a one-man show. I'm looking to find sponsors and find somebody who can up my game a little bit.
Special thanks to Hazem for taking the time out for an interview, check out their website to shop the latest collection: stabraq.com
Author: Muhammad Yousuf Shuwekh