Sometimes, it can be hard to find gifts for those special Muslim brothers and sisters in your life. With all the diversity in Islamic products out there, choices can be hard to make and putting together quality gift packages becomes an even more meticulous task. Thankfully, this article's featured brand, Muslim Box Company, is here to offer you the perfect halal solutions.
Founded in the U.K. in 2015, Muslim Box Company base their mission on the Prophetic principles of generosity, sharing and gift-giving. From beard oils to stuffed animals to gourmet chocolate, this brand prides itself on selecting hand-crafted, high-quality products that will be sure to put a smile on that special someone's face.
Keep scrolling for the perfect gift inspiration as well as details for an exclusive giveaway!
FOR THE SUNNAH
The Sunnah box is a unique set of grooming essentials suitable for every Muslim male, drawn directly from the essentials of Prophet Muhammad himself.
This box features:
2 Miswak Brushes
1 Beard Oil Blend (10ml, Sweet Almond Oil/Pure Argan Oil/Cedarwood and Lemongrass Scent)
1 Non-Alcoholic Attar Perfume.
A Premium Quality Folding Beard Comb
A Miswak Holder 1 Black Seed Oil Blend (20ml) 1 Sunnah Box Pouch 1 Logo-Engraved Premium Walnut Wood Box
FOR THE BEARDOS
The perfect gift for our #beardbros, MBC's Beard Oil Set is designed to provide essential vitamins that a beard needs to thrive, softening and hydrating even the roughest of manes. Whether you're a brother who's just started growing or a seasoned beard master, this box will give you what you need.

This box features:

1 "Leader" Beard Oil Blend (30ml, Moroccan Argan Oil/Sweet Almond Oil)
1 Folding Comb
1 Travel Pouch
FOR THE LITTLE ONES
Combining the best of play and education, MBC's My Prophet Box is designed to be a beautiful introduction for the youngest of Muslims to the stories, morals and manners of the blessed Prophets of Islam. Wonderfully packaged in a premium, magnetic box and a lovely ribbon tie, this box will charm both children and parents alike!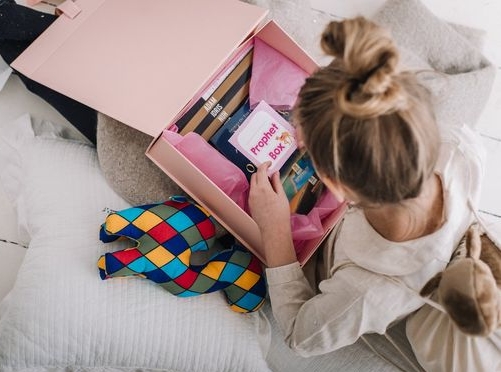 This box features:

4 Prophetic Story Books (Prophet Adam, Prophet Ibrahim, Prophet Muhammad in Mecca, Prophet Muhammad in Medina)
1 Baby Pink or Baby Blue Keepsake Box (includes ribbon and tissue paper)
1 Baby Pink or Baby Blue-themed Label Sticker
1 Deluxe Activity Pack filled with a variety of interesting items
1 "Prophets In The Quran" Poster (A3 size)
1 Plush Camel Toy (32cm)
FOR THE NEWLYWEDS
Perhaps the most sentimental of MBC's offerings is the Happily Ever After Box, which is designed to be given as an engagement gift, wedding present or surprise for that special someone a few months into your marriage. This lovely package comes in a premium, ivory box sealed with a ribbon and will both entice your senses and kindle the spark of love in your life.
This box features:

3 Gourmet Chocolate Bars
2 Custom Couple's Mugs (Arabic calligraphy and cute catchphrases)
1 Scented Candle (Cinnamon-infused)
1 Custom Memories Scrapbook
Author: Tyler Salman Mallari
Special thanks to Tyler from @themuslimmale on Instagram for collaborating with us on this post. Be sure to follow his account for style inspiration and modest menswear.