Social media was abuzz a few weeks ago when it was announced that sporting giant Nike would be releasing their version of a sports hijab. The specially designed garment which had been in development for over a year had been tested by Muslim athletes and is expected to provide a breathable but also practical alternative for Muslim women.
The announcement was hailed as a step forward in the perceptions of Muslim women and with the largest sporting goods company outwardly supporting the hijab it's hoped the 'Nike hijab' would open the door for greater participation by Muslimah's in sports. However, well before the buzz of the Nike hijab, inventive Muslims had already put together their interpretation of modest sportswear. Since Nike is getting all the shine these days we thought we'd put together a list of some of the top modest sports clothes for the active Muslimah.
Veil Hijab
When technology meets modesty. Veil Hijab are the company behind the 'Cool dry shawl' the world's first ever climate-adapting hijab. The company established itself through a successful Kickstarter campaign which raised over $39,000 in 2015. Two years on they have created a great product, providing a waterproof and breathable hijab as well as adding additional apparel to their collection.
The headscarf is made from 100% nylon fabric and is also water-resistant making it a handy purchase even if you're not planning a workout anytime soon. Veil also stock a couple of well-designed outer garments the 'Halo running hoodie' and the 'Spark half zip' in a variety of colours and sizes ranging from XS to 3XL. The hoodie comes with a uniquely designed 'stay-in-pace scuba hood' providing stability and additional comfort for runners.
"Designed for coverage, built for performance"
Veil are a standout example of a Muslim-run company taking the initiative and challenging mainstream retailers, balancing style, comfort and performance in a way we often don't see in the Muslim market.
Haramlak
If you're interested in a swimming session these 'Burkinis' from Spanish based company Haramalak might be of interest. We were lucky enough to be sent two of their products for review and we were pleasantly surprised by the quality of material as well as the comfortable fit they provided.
Haramlak carries different variations of the infamous 'Burkini' allowing for each customer to find a design that they would feel comfortable in. When purchasing garments for water based sports activities one of the important considerations is how well they fare under water. The clothing material performed well helping to avoid the heavy drag often created when the material becomes saturated.
"Traditional designs based on Muslim values aimed at giving women the freedom to practice swimming and outdoor sport while maintaining their traditions"
If you're looking for a fashionable but also modest alternative to a swimsuit this would be our first pick.
ASIYA
Coming in at number three it's the Nike hijab, or maybe not? Over a year before the concept of the Nike Hijab, Asiya put together their version of a sports headscarf. Their product comes in three separate designs allowing for various forms of coverage while also utilising specialised material to provide comfort, breathability and ease of use.
The Asiya brand was founded due to the growing need of young Muslim women who wanted to compete in sports but always felt they would compromise their religious and cultural beliefs. Asiya seems to have stepped up to the plate and after a successful Kickstarter campaign in 2016 they have launched their product to the public.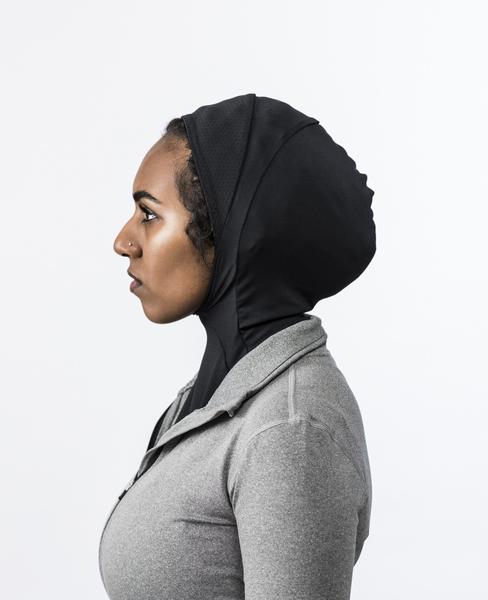 "ASIYA honours and encourages Muslim women of all ages—young girls, tweens, teens, mature women—to experience a new level of confidence, cultural integrity, comfort, and health"
They currently have an opening sale of 40% on various items so be quick if you want to grab a discount!
MU'MINE
Perhaps the most versatile brand on this list is Mumine activewear. They stock a variety of clothing types including tops, bottoms and Hijabs in a range of styles, colours and fits. The brand balances both modesty as well as ethical considerations as they personally take care of all production. The variety of clothing available allows you to be more specific when purchasing garments allowing you to select an outfit that best suits your demands.
Like most items on this list, Mumine has made use of the latest tech fabrics, mostly using Nylstars MERYL® fabric guaranteeing UV protection, shape retention and a reduction in odour when working out.
"High-performance fabrics ensures your mind is on your workout and not on the clothes you wear. We design activewear that is feminine and on trend with the latest technology, keeping in mind that sustainability and ethical clothing is our top priority"
Islamic Design House
The last company on our list have come up with an interesting concept for workout gear. It's a sports jilbab. Probably not the best option in terms of practicality but the material, as well as design, would be suitable for lighter forms of exercise. Their sports jilbabs are available in both cotton and polyester fabrics and provide full coverage while also maintaining a sporting look.
Islamic design house is not an exclusive sports retailer and they have a variety of other clothing items for sale. A great purchase, just don't turn up to karate practice in this.