Tyler Mallari (@themuslimmale) shares with you his top tips for wearing shorts in the summer season.
With summer slowly rolling to a close, many of us are still looking to maintain our summer fresh, especially those of us who are heading back to campus. Given the finicky nature of weather, we are also quite aware that we may not need to store away our summer wardrobe, as warm temperatures can last all the way until early October or even slightly beyond, depending on where we live.
And so, in honor of yet another amazing summer and hopefully some warm weeks to come, Bahath and The Muslim Male have paired up yet again to give you our take on shorts.
Keep in mind that when searching for any of these styles of shorts, make sure to use keywords such as "long" or even "baggy" online and try on each pair you're checking out in store in order to ensure that the cut hits past the knee for #sunnahwins.
(Images: The Idle Man.com, The Fashion Tag.com)
Perhaps the most formal of short choices, chino shorts are perfect for creating an overall polished look. Because of the wide variety of colors and patterns they're available in, color coordination and working them into casual and smart-casual outfits becomes quite easy. Whether you decide to pair them with polos, tees or even cotton casual shirts is entirely up to you. Just be sure that if your shorts are bold-colored or patterned, you pair them with more subtle tops, footwear and accessories in order to not over-complicate your look.
Chino shorts can be easily found at fast-fashion retailers such as ASOS and H&M. Also, look for a bit of elastane (ideally between 2-3%) in the material when searching so that you don't feel too boxed-in by these shorts.
(Images: ASOS.com)
Drop-crotch shorts, popularly known as "harem shorts", are a perfect avant-garde alternative to the typical casual short options available and strike an intriguing balance between Eastern and Western wear. Additionally, given the fact that they're often made with draped cotton fabric, they provide a level of comfort usually seen in athletic shorts.
Though drop-crotch shorts are easily paired with tees for a more athletic look and longline tees for a more updated streetwear look, I personally prefer layering them under long kurtas or kurta-inspired longline shirts for a dramatic high-low appeal that nods towards the shorts' Eastern heritage as short dhotis worn in the Indian subcontinent.
Since drop crotch shorts are unique and trending pieces, they are a bit more difficult to locate online, though I've had great luck with the selection that ASOS provides and have also found decent options advertised by independent sellers on Etsy.
(Images: Ali Express.com, Pinterest.com, Your Average Guy Style.com)
An acquired taste, denim shorts are much-loved by those in the hip-hop and rap scene and have been experiencing a resurgence recently due to the Western fashion industry's new love affair with 90's nostalgia.
Though the typical baggy denim shorts are best paired with longline or similarly baggy tops, slimmer options are available which are cut below the knee and can be used to create a more tailored casual look. For looser-cut outfits with denim shorts, draw inspiration from streetwear culture and feel free to experiment with bold colors and patterns and round off the outfit with chunky trainers. For slimmer outfits, try pairing with retro graphic tees and canvas sneakers or even sandals for a beach-ready look or swap the tee for a casual shirt for an evening out.
Again, fast-fashion brands such as Urban Outfitters, ASOS and H&M typically carry these shorts, but they can also easily be found for cheaper on eBay or at thrift shops. Additionally, Southpole has long been the leader for quality hip-hop inspired denim shorts and has been a brand that I've personally favored in the past.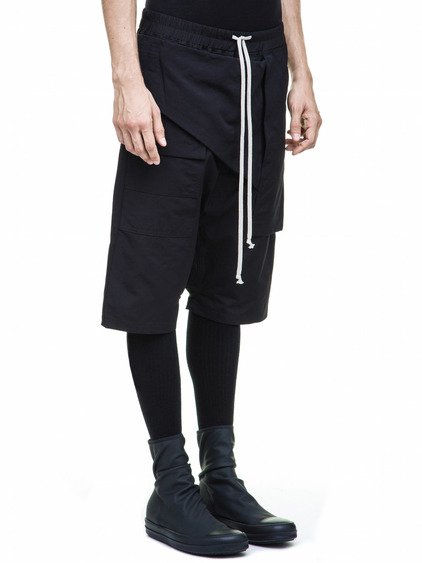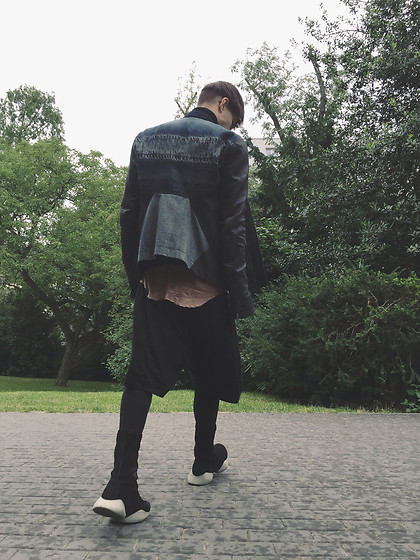 (Images: Daniel Patrick.us, Rick Owens.eu, M. Appelberg on Lookbook.nu)
When one mentions "basketball shorts" what usually comes to mind are comfortable, loose polyester numbers either plain, striped or with team insignia. However, recently, basketball shorts have also undergone streetwear adaptations in canvas and cotton varieties thanks to the genius of designers like Rick Owens and can now suit a wider variety of tastes.
Basketball-inspired shorts are strictly for casual occasions and work best on lazy Sundays, at the gym or even for a relaxed day at the mosque. Pair the typical numbers with longline tees and chunky trainers for an easy, streetwear-inspired look. For a more trendy look, pair canvas or cotton basketball shorts with draped or graphic tops and canvas sneakers or sandals for a great festival look.
I've historically had the best luck with basketball shorts cut by Nike and Jordan, as they fell well beneath the knee and were cut in fits that were loose, but well-structured. For canvas or cotton versions, search for Rick Owens-inspired numbers (you may have to include the term "drop-crotch" in your query) on either ASOS or Etsy.
Three-Quarter Soccer Shorts
(Images: Adidas.com, Nike.com, Puma.com)
Long-favored by brothers living in the UK, three-quarter soccer shorts are also best reserved for solely casual situations and their tailored nature often brings about a more modern sporting look than basketball shorts.
Color and pattern are all up to you and thankfully the cut of these shorts always falls beneath the knee, whether just slightly below it or all the way down to the calf.
Adidas and Puma cut these shorts excellently and Adidas, in particular, has made them a constant mainstay and offers a wider variety than Puma.
We hope this guide has helped you gain some new ideas to maintain your #summerfresh and wish all our brothers a warm and enjoyable rest of this summer!
Author: Tyler Hussain Mallari
Enjoy this Article? Please feel free to share it on your social media, Also don't forget to give us some feedback. We are on FB , Twitter and Instagram.
Special thanks to Tyler from @themuslimmale on Instagram for collaborating with us on this post. Be sure to follow his account for style inspiration and modest menswear.